Survey types
Welcome to the world of Surveys!
LimeSurvey offers a wide range of Survey Types, from simple questionnaires to complex form templates. Discover the best examples of online surveys, designed to meet all your data collection needs. Choose from our customizable survey templates and use our this platform to create an effective questionnaire in minutes. Let's explore the power of surveys and gather valuable insights today! Start free survey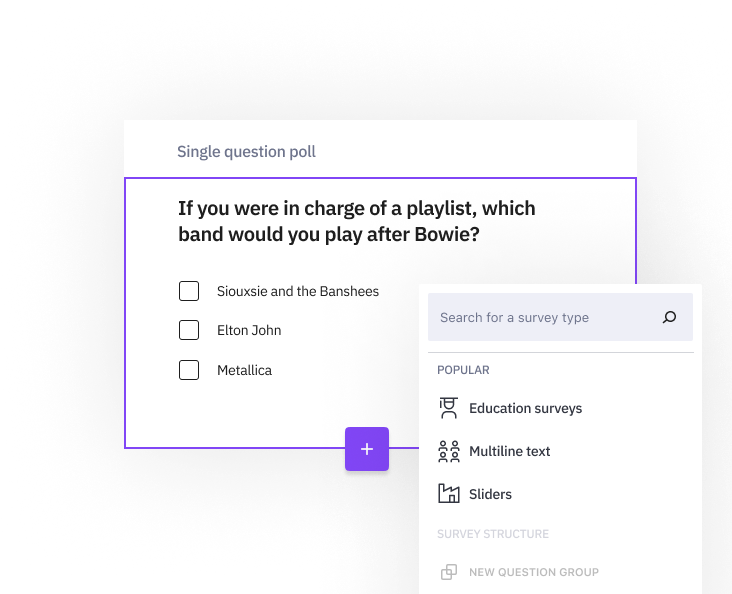 Survey builder
Looking for a convenient and user-friendly way to build your surveys? Look no further than the Survey Builder! Our powerful survey creator offers a range of features that make survey creation a breeze. From our easy-to-use survey maker to our advanced survey generator, you'll find everything you need to create effective surveys and collect valuable data.
Easy and simple to use

Real-time results analysis

Customized branding

Various question-types

So much more…
More survey types
If you're interested in delving deeper into different types of surveys, our platform provides an extensive selection of survey options to cater to all of your data collection requirements. We offer an array of survey templates and a versatile survey builder that allows you to create a personalized survey that aligns with your specific needs, from multi-page surveys to single-question polls. Discover the range of survey types available on LimeSurvey and take the plunge today.
Best Questionnaires and Feedback Forms
Here, we showcase the top-rated and most popular surveys and feedback forms. Get inspired by our collection of best practices and see how others are using surveys to gather valuable insights. From customer satisfaction surveys to employee engagement questionnaires, you'll find a wide range of examples to choose from. Start exploring today and discover the best questionnaires and feedback forms for your needs!
Trusted by the world's most curious minds