Branded Surveys
Elevate your brand with LimeSurvey's branded surveys that offer a seamless experience for your respondents,
while maintaining consistency and professionalism in your online presence. Use customizable questionnaires and forms to gather valuable insights and enhance your brand reputation, while driving growth and success for your organization.
Branded Survey Templates
The branded survey template features demographic questions and solicits feedback on products or services, focusing on aspects such as overall satisfaction, quality, and ease of use.
The brand survey template is designed to glean insights into the brand's perception among its target audience, assessing satisfaction levels and experiences associated with the brand.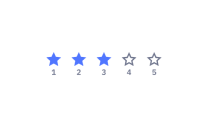 Client intake forms are essential tools for gathering important information about clients to ensure that businesses can provide customized services to meet their needs.
How to create effective branded surveys?
TPL_MODULE_ACCORDION_TITLE
In today's highly competitive market, building a strong brand image is essential for businesses to succeed. One of the key components of branding is gathering customer feedback through surveys. Follow these tips and best practices to create branded surveys that will yield valuable insights and enhance your brand image.
Choose a consistent color palette that aligns with your brand.
Use your brand's logo and images throughout the survey.
Use LimeSurvey's possibilities to host the survey.
Ensure the survey's design matches your website's branding and style.
Include a personalized message from your brand in the introduction.
Create branded thank you pages and follow-up emails.
Use language that reflects your brand's tone and personality.
Design questions that focus on your brand's unique offerings.
Use a branded progress bar to keep participants engaged.
Encourage participants to share the survey with their networks to increase brand exposure.
Branded Survey Builder
Create custom surveys that reflect your brand's personality and identity with LimeSurvey's Branded Survey Builder. This powerful creator and generator allows you to design professional questionnaires and forms that align with your branded strategy and gather valuable insights that drive your business forward.
Custom number of responses/year

Custom upload storage

Corporate support

Custom number of alias domains

Dedicated server

So much more…
Similar categories
Explore our diverse selection of surveys tailored to your unique needs and goals, including customizable templates designed to elevate your brand image, gather valuable feedback, and enhance customer satisfaction.
Best Branded Questionnaires and Feedback Forms
Discover our top-quality survey templates from the LimeSurvey Community that allow you to customize your surveys to match your brand identity, ensuring a professional and cohesive look that enhances your brand image, while gathering valuable insights and feedback to improve your business strategy.
Trusted by the world's most curious minds