Shopping Surveys
Transform your customers' shopping experience with LimeSurvey's shopping surveys,
which provide valuable insights into consumer behavior, preferences and trends through professional questionnaires and forms, enabling you to make informed decisions that boost customer satisfaction and loyalty and drive business growth.
Shopping Survey Templates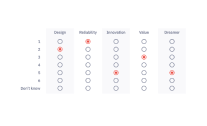 This booking form is useful for managing appointments and reservations, enabling businesses to efficiently schedule and organize their operations.
The commercial survey template collects feedback from businesses, focusing on their experiences with a company's products or services, and gauging satisfaction levels.
The cake order form template offers a streamlined approach for customers to place orders, allowing them to specify preferences like cake size, flavor, frosting, and decoration.
How to create effective shopping surveys?
TPL_MODULE_ACCORDION_TITLE
Shopping surveys help organisations and businesses understand their customers' preferences, needs, and purchasing behaviors, allowing them to improve their products and services. Conducting shopping surveys can also help businesses identify areas for improvement and potential opportunities for growth. Shopping surveys can help businesses build better relationships with their customers and improve customer loyalty.
Start with clear objectives and identify what you want to learn about your shoppers' habits and preferences.
Incorporate open-ended questions to gather qualitative data and gain insight into the shopping experience.
Personalize your survey to reflect the individual shopper's journey and preferences.
Offer incentives or rewards to encourage participation and engagement.
Analyze your results and use them to make data-driven decisions that improve the shopping experience.
Follow up with shoppers and communicate how their feedback has been used to improve the overall shopping experience.
Shopping Survey Builder
With LimeSurvey's Shopping Survey Builder, you can easily create and customize professional questionnaires and forms that capture accurate feedback and insights from your customers, enabling you to improve the shopping experience, increase customer satisfaction, and drive sales growth.
Custom number of responses/year

Custom upload storage

Corporate support

Custom number of alias domains

Dedicated server

So much more…
Similar categories
Explore our selection of survey templates to gather valuable insights and feedback from your customers, enhancing their shopping experience and driving business growth.
Best Shopping Questionnaires and Feedback Forms
Our shopping survey templates from the LimeSurvey Community are designed to provide valuable insights and feedback on customer experience, enhancing shopping satisfaction and promoting growth. Use these customizable and easy-to-use templates to measure customer preferences, identify areas of improvement, and drive sales growth.
Trusted by the world's most curious minds