Booking Forms
Booking forms can streamline the booking process, save time, reduce errors, and improve customer satisfaction.
Use LimeSurvey's professional questionnaires and forms to gather reliable data and create a positive impact that advances your business and achieves your objectives.
Booking Forms Templates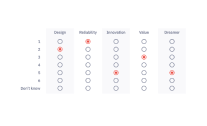 This booking form is useful for managing appointments and reservations, enabling businesses to efficiently schedule and organize their operations.
The cake order form template offers a streamlined approach for customers to place orders, allowing them to specify preferences like cake size, flavor, frosting, and decoration.
How to create effective Booking Forms?
TPL_MODULE_ACCORDION_TITLE
Booking forms are an essential tool for businesses and organizations to streamline the reservation process and gather important information about their customers. By using booking forms, businesses can provide a seamless booking experience, reduce errors and confusion, and ultimately increase customer satisfaction and loyalty.
Design your booking form with a simple and easy-to-follow layout. Avoid asking too many questions and keep the form concise
Ask for only the necessary information required for booking, such as name, contact information, date of booking, and service preferences.
Provide clear instructions and guidelines on how to fill out the booking form to avoid confusion and errors.
Use appropriate colors, images, and branding to make your booking form visually appealing and recognizable.
Ensure that your booking form is mobile-responsive and can be accessed and filled out on different devices, including smartphones and tablets.
Use conditional logic to show or hide certain questions or fields depending on the user's previous responses.
After the booking form is submitted, include a confirmation page that confirms the user's booking and provides any additional information or instructions.
Test your booking form to ensure that it is working correctly and efficiently. Continuously optimize the form based on user feedback and data analysis.
Provide adequate customer support for any issues or questions that may arise during the booking process.
Booking Form Builder
The Booking Form Builder offers a convenient and efficient way to create professional and customized forms that improve your booking process and streamline communication with clients.
Custom number of responses/year

Custom upload storage

Corporate support

Custom number of alias domains

Dedicated server

So much more…
Similar categories
Find more professional survey templates for event planning, travel and accommodation booking, restaurant reservations, service scheduling, and appointment booking.
Best Booking Questionnaires and Feedback Forms
Uncover the collection of booking form templates from the LimeSurvey Community, crafted to simplify your booking journey, boost productivity, and obtain priceless insights from your clientele.
Trusted by the world's most curious minds