Did you know that you can hire a professional for survey creation or customization? Or for support? Or to generate automated workflows? LimeSurvey GmbH has developed a network of authorized partners that are always ready to meet your demands.


LimeSurvey GmbH is a growing organization that governs the development of the LimeSurvey software. Two types of packages are provided on our platform: LimeSurvey Cloud and LimeSurvey ComfortUpdate. The former provides users a hosted software solution supported by us, while the latter comes with ComfortUpdate, premium plugins, survey templates, and themes. To better understand the difference between LimeSurvey Cloud and LimeSurvey ComfortUpdate, check out our blog post on different hosting solutions for LimeSurvey.



However, the growth of our user base increases the number of special requests we receive that cannot always be fulfilled by us. Therefore, we have actively started to expand the services we provide via the creation of a group of service companies that provide a wide range of optional commercial services. These services may include individual support, consulting or training, installation and maintenance of LimeSurvey on your own server, integration of LimeSurvey in your software environment, custom code development, survey creation, and the design of individual themes.


Who Are Our Partners?
The partners network consist of individual and organizations located all over the globe: Africa, Australia, Asia, Europe, North and South America.


Services & Support
The services and support provided by our partners cover the following areas:
Finding the Right Partner
Now that you have an overview of the different services that can be contracted, you can start looking for the right partner for your organization. To do that, check first the list of partners list of partners from limesurvey.com, and explore the links on the left menu to find your matching partner for the service and country you are looking for.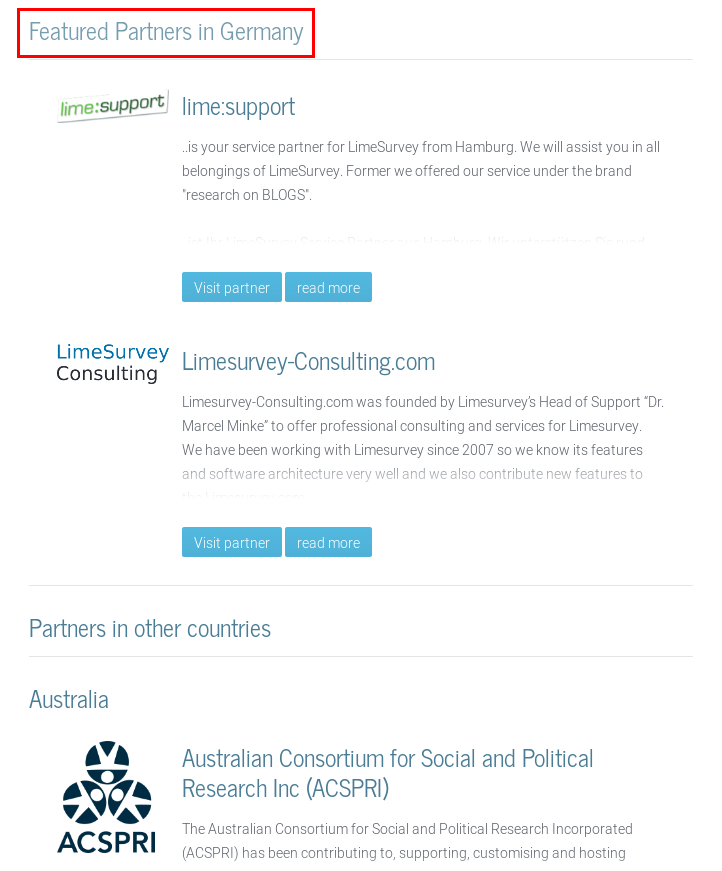 If a partner lives in the same country as you, (s)he will be displayed as featured partner on the same web page, being displayed at the top. As in any other Open Source project, the community continues to represent the most important part of LimeSurvey. However, with the growth of the project and its user base, many requests need to be fulfilled in a timely manner. Therefore, users seeking quick professional help can contact anytime LimeSurvey professionals who are eager to satisfy their project requirements anytime. We will introduce our partners on our blog in the upcoming weeks. In the meantime, you may start contacting them directly or you can write us via the limesurvey.org platform support tracker.