LimeSurvey comes with a rich collection of features and additional advanced functions. Most functions are self-explanatory but sometimes you want to learn more about the details. Read this blog post to become acquainted with all possibilities for getting help. Also watch out for our pro tips!
RTFM: Read the famous manual
The first resource for help is the LimeSurvey online manual.
Here you'll find an overview of everything that can be done with LimeSurvey out of the box. You find the core features explained and descriptions of what you can do with advanced settings. If you are new to LimeSurvey the general FAQ might be a good place to start.
But there's even more for advanced users: Inthe sections on workarounds and troubleshooting you find a collection of handy contributions from other LimeSurvey users.
The manual is available in many languages. However, the main language is English. But as LimeSurvey is an open source project and the manual is like a wiki, you can help to translate and extend the manual. Just login to your account and support the community!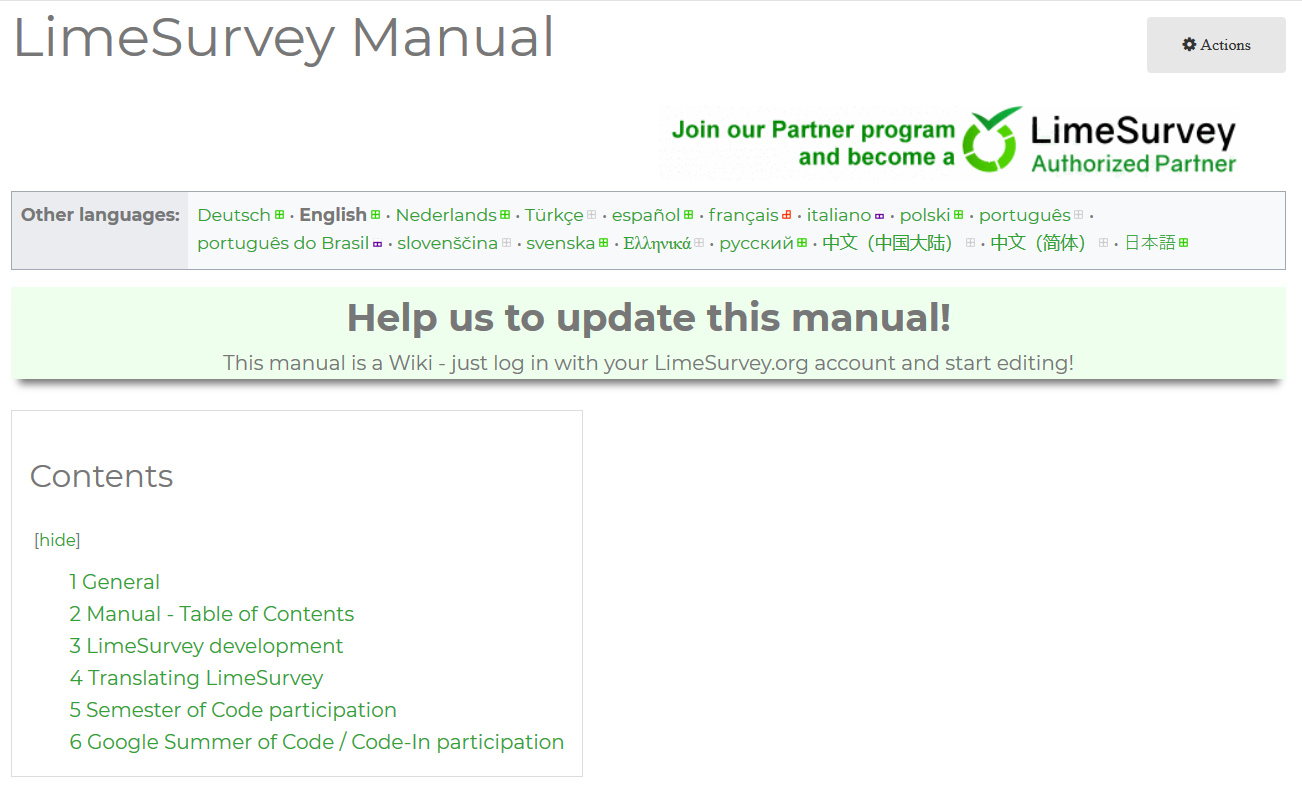 Crowd intelligence: The LimeSurvey user forum
You might not be the first person with a certain challenge or special requirement. In the LimeSurvey forum you find an extensive collection of questions and answers – and the chances are quite good that you already find the answer to your question without having to ask. The forum started more than 10 years ago, so it is a rich resource. You find different subforums for certain topics and also localized forums (e.g., in French, German, Italian, Spanish). All you need to ask questions in the forum is a free LimeSurvey community account. Or just log in if you already have an account.
In the forum there are some really (really!) experienced supporters who try to help in their free time. We are very grateful that they share their knowledge! So thanks @DenisChenu, @Holch, @lfanfoni, @Jelo, @Joffm, @Mazi, @Nickko, @tpartner, and all the others who contribute in the spirit of free and open source software!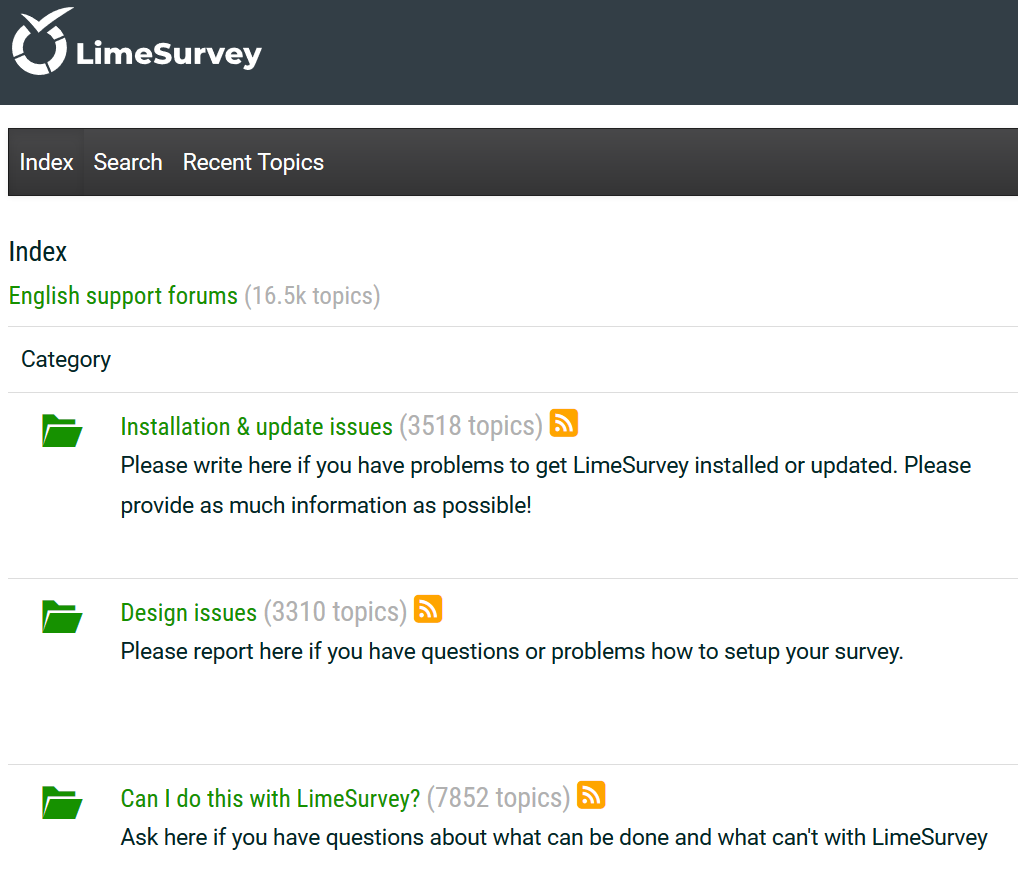 Pro Tip 1: If you have any questions, start your search in the forum. If you don't find a solution, open a new topic and provide all information others might need to help (e.g., your LimeSurvey version and all technical data like browser, operating system, and so on).
First class support: Exclusively for LimeSurvey Cloud users
Users of LimeSurvey Cloud (from package Basic onwards) can also take advantage of the individual support. Here you get help directly from LimeSurvey GmbH's experienced support team that has direct access to the core developers.
Opening a support ticket is easy: Just login to your account and go to the support section. But before doing so, check out our support FAQ, where you might already find the solution you are looking for.
One on one: Chat with the Community Team
Our great community team – did we already mention that these people provide their help in their free time and that they do an excellent job?  – can also be reached in a Discord chat. This is the channel for very urgent problems.

Pro Tip 2: Always log in your LimeSurvey account before opening a support ticket – this will speed things up!
Outsourcing instead of DIY: LimeSurvey partners get the job done
Especially in the business context you sometimes don't want to do everything yourself but want to delegate work to professionals. So, if you need an independent expert for example to …
… integrate LimeSurvey in your infrastructure or workflows,
… implement a complex survey,
… create an individual survey theme design, or to
… customize your LimeSurvey installation,
we recommend your authorized LimeSurvey partners
All of our qualified partners are very experienced with LimeSurvey – you might meet some of them also in the forum – and the partner network operates world-wide. So don't hesitate to request a quotation.
Didn´t check out part one and two?
No problem, we got you covered.