What is brand awareness?
In the past few decades, modern society has been experiencing a strong shift from traditional brick and mortar store shopping to purchasing products online. The reason for this? It's more convenient, easier, faster and the selection is endlessly broad. From a consumer perspective, the phenomenon of online shopping has become a truly paradisiac state. From a business company perspective, it has never been more difficult to gain a competitive edge over rival companies. At first, this may sound paradox seeing as the internet offers dozens of possible ways for businesses to target and address potential customers, be it end customers (B2C) or business clients (B2B). Nevertheless, this applies to every organisation with a web connection resulting in an abundance of information for consumers to process.

As described in the previous paragraph, this circumstance is overwhelming for people, but equally essential to businesses hoping to sell their products and services to consumers. So how do companies initially get to the point of sale with acquired customers? In short: brand awareness. Brand awareness can be defined as the degree to which consumers are able to remember and recognise a specific brand.

In this context, the recognition of a brand does not necessarily include the remembrance of a brand name, but rather requires a minimum mental distinction of brand features in comparison to other similar brands.
Putting brand awareness into context
Brand awareness is a crucial strategic performance indicator for businesses as it plays an important role in the initialisation of a purchasing process. This is where consumer behaviour, the purchase decision funnel and the brand awareness set come into play.
Consumer behaviour
Consumer behaviour is concerned with studying how consumers, e.g. individuals, groups or organisations, make purchasing decisions based on emotional, behavioural and intellectual influences.
Purchase decision funnel
The purchase funnel is a model based on consumer behavioural studies which depicts the customer journey through different funnel stages before purchasing goods or services. This decision funnel is subcategorised into four phases: Awareness, Interest, Desire and Action. The Action phase which represents the actual purchase is strongly impacted by the three preceding phases which lead a consumer from brand awareness to brand desire. These steps are the crucial contact points for businesses to win over customers.
Brand awareness set
Typically, when the need to purchase a product or service arises, consumers consciously or unconsciously search their memories for any known brands, called the
awareness set
, which are then subdivided into suitable and unsuitable options depending on the extent to which these options satisfy the respective need at hand. Unsuitable brands move into the consumer's
inept set
, indifferent brands into the
inert set
and suitable brands into the
evoked set
. In cases that an insufficient number of evoked brands are accessible in the memory, external research, e.g. search engine queries, product/service comparison web pages, recommendations from friends and family, can be used to round off the purchasing decision. Brands that are then rejected make way for brands that are finally purchased.
The goal for businesses is then to deliver an amazing product or service and provide an extraordinary experience to the customer to confirm his/her assumption that he/she bought the best option with the time and resources available.
If this process is successful, companies will be able to complete the purchasing cycle by remaining the
top-of-mind awareness brand
which awards them the competitive edge needed for the next time the customer goes through the purchase decision funnel. The top-of-mind awareness concept refers to a brand coming to a consumer's mind first when thinking about a certain industry or product/service category.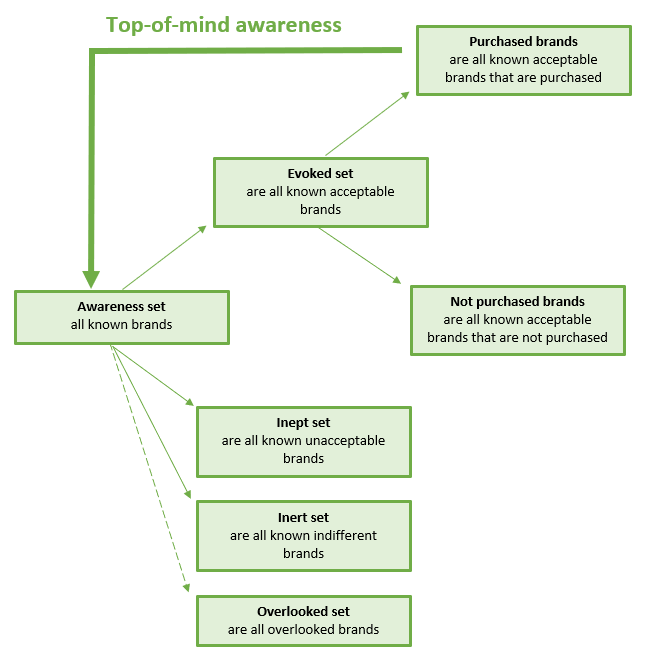 Levels of brand awareness
There are different levels of brand awareness. As mentioned in the
previous paragraph
, the most desirable state of brand awareness is the top-of-mind awareness. This kind of brand awareness does not require any external impulses to recall a certain brand.
One level of brand awareness is the unaided recall. Customers are able to recall a brand without any external inducement.
Another level is the aided recall. A consumer will not be able to remember a brand without external help. A concrete stimulus needs to be deployed to prompt a consumer's brand awareness.
Brand awareness survey
Brand awareness is an important indicator in a world strongly impacted by online shopping as customers can't always test brands before deciding to purchase them unless they have been buying these brands habitually.
After all the previous talk of what brand awareness is and how it is majorly important for businesses, it ultimately comes down to one question: how am I supposed to know consumers' brand awareness? The answer is simple: by asking them; and what better way to ask them than by conducting a brand awareness survey.
LimeSurvey offers a
Brand Awareness Survey Template
which contains questions aimed at identifying the
levels of brand awareness
.
Are consumers able to recognize a specific brand when asked to freely list brands based on certain product or service categories (unaided recall)? Are they able to recognize a specific brand when it is placed in a list including other brands (aided recall)? Which sources have lead consumers to specific brands? How familiar are specific brands, what is the consumer's purchasing behaviour and how does the consumer rate specific brands?
Brand awareness is oftentimes a decisive factor when a consumer chooses to buy a certain product or service. Maintaining a top-of-mind awareness is crucial to spur growth, especially for online shops as a higher level of positive brand awareness can make up for the lack of being able to physically touch and examine a brand's products or services. Conducting brand awareness surveys are a good way to start your brand awareness campaign.
---
If you want to give us feedback, comments or suggestions regarding our brand awareness survey template, feel free to send us an This email address is being protected from spambots. You need JavaScript enabled to view it..