FeatureFriday: Statistical evaluation – give significance to your survey results
Author: Stuart Kondziella | Feature Friday | August 04, 2017
LimeSurvey statistics
When you've received survey results, the most important part is yet to come, the evaluation! Using statistics to give meaning to your results is essential to any survey conduct. LimeSurvey can start you off with basic descriptive statistics and provides the tools to move survey response data over to other applications for infinite statistical possibilities.
Simple mode and expert mode
First of all, there's the 'Responses' button in the admin interface that will lead you to LimeSurvey statistics via 'Responses & statistics'.
Responses & Statistics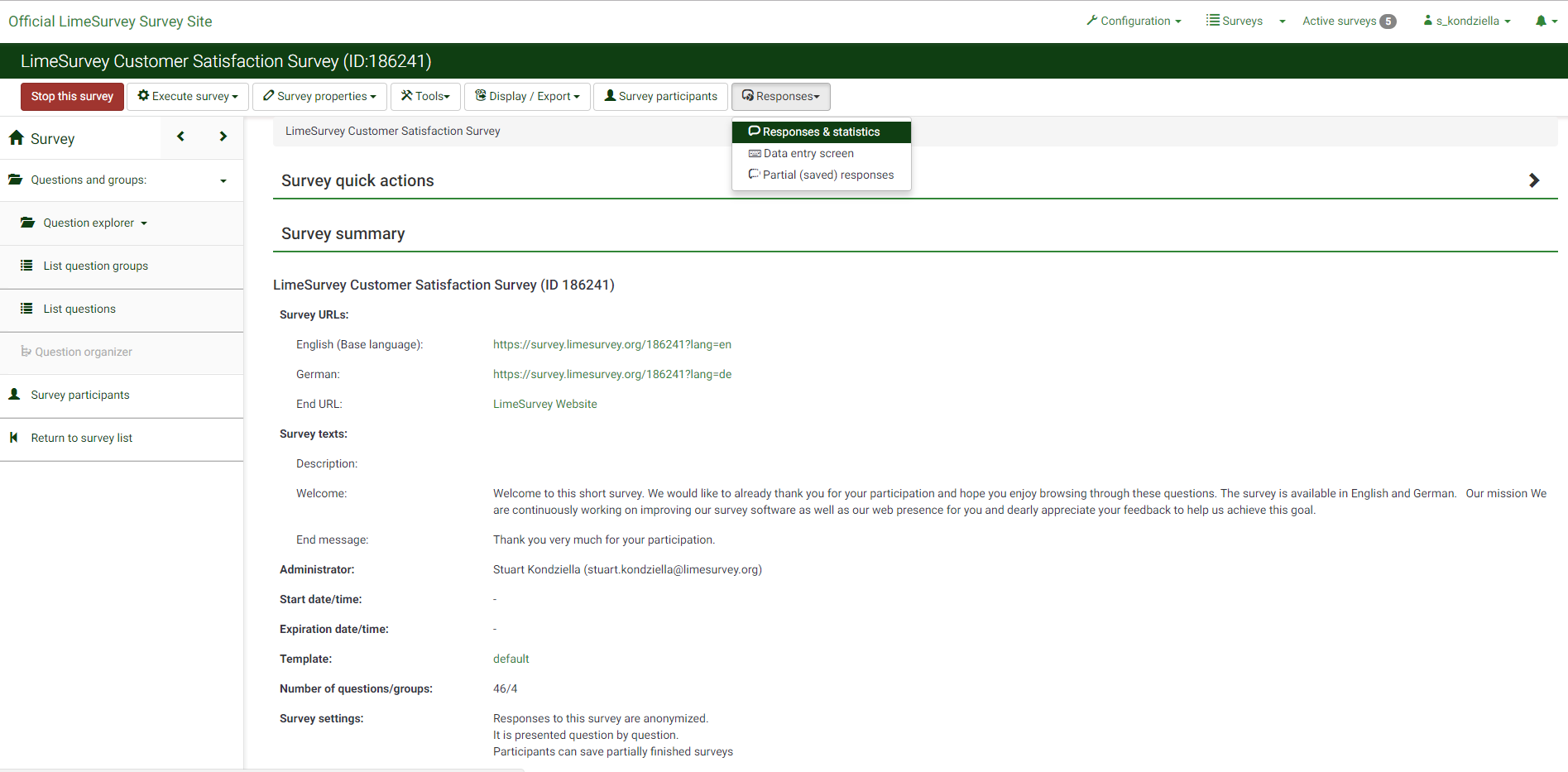 When you access the statistics function, you have two possible statistics modes from which to choose:
The simple mode
This mode will give you swift statistics by merely clicking on the 'Simple mode' button. Thus, you will only get response graphs and no free text answers. However, you can switch between displaying all responses, only complete responses and only incomplete responses.
Simple Mode
The expert mode
This mode allows you to filter your responses according to certain criteria. Once you have set all your filters, you generate the statistics report by clicking on the 'View Statistics' button in the top right corner. If you have falsely filtered and would like to restart, you can 'Clear' your selection in the top right corner.
Now to the available filters: The general filters contain …
Data selection


Include either all responses, complete responses or incomplete responses
Provide a summary of all fields: if activated, this will automatically mark all question groups and questions to be taken into account for the statistics
Subtotals based on displayed questions: if activated, this will hide the number of incomplete or not displayed response count
Statistics report language: selectable are all languages that the survey was set up in

Response ID: an interval of respondent IDs can be chosen to focus the attention on only those statistics
Output format: HTML, PDF or Excel are available
Output options


Show text responses inline: lists all answers from free text question types
Show graphs: adds graphic illustrations to the statistics
Number of columns: one to three columns can be set to display statistics
Graph labels: question code, question text or both can be used to label the horizontal graph axis
Chart type: different chart types such as bar charts, pie charts and line charts can be chosen for the graphs, however, these can be changed later individually for each graph within the statistics overview
General Filter
The response filters contain all question groups, questions and answer options that can all be selected individually depending on the statistics you want to look at.
Response Filter
By clicking on the 'Export images' button at the bottom of the result table, regardless of simple or expert mode, you may receive the results in a file format of your choice (default PNG, PDF or Excel).
Alternatively, the 'Responses' button within the statistics function offers you to browse through your results and filter according to certain criteria you determine.
Response Overview
Advanced tip: LimeSurvey offers many export possibilities. Go straight to processing your results in many other data handling software solutions such as Microsoft Excel/Word, SPSS, R, STATA or CSV. This allows you to undertake more complex, statistical calculations and tasks.
Results Export

Learning by doing statistical evaluation
LimeSurvey offers all features to paid subscriptions as well as free users. The statistics function as well as diverse export possibilities are no exceptions here. Give it a try and set up some basic questions and answers which to evaluate statistically with LimeSurvey! Simply
click here
to get started. If you want to learn more about statistics in LimeSurvey, visit our
LimeSurvey manual
.